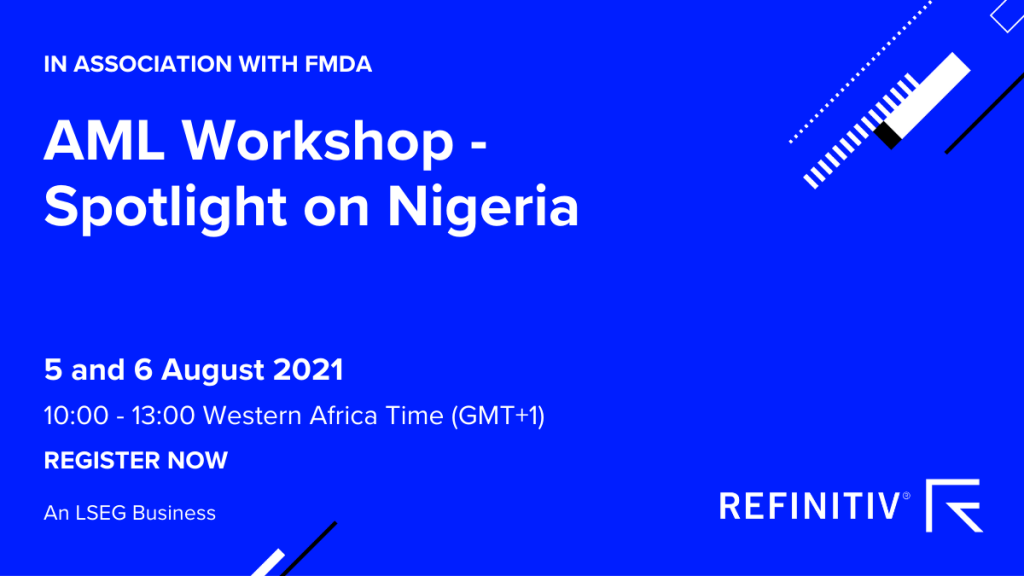 Refinitiv, in collaboration with Financial Markets Dealers Association (FMDA), are pleased to invite you to attend our two-day virtual AML workshop – Spotlight on Nigeria.
With a regulatory environment that is constantly changing, it is an ongoing struggle to stay on top of trends and, most importantly, global regulatory requirements.
This complimentary two-day workshop aims to increase awareness among the local compliance community on topics that directly impact your daily compliance obligations.
In this virtual workshop, you will learn about:
CFT & proliferation trends in Nigeria
Global PEP oversight & World-Check inclusion criteria
Cybercrime and kidnapping for ransom
The rise of digital onboarding
The workshop will also contain a short Refinitiv Qual-ID digital identity solution and World-Check One demonstration.
---
Event Info
Dates: Thursday 5 & Friday 6 August, 2021
Time: 10:00 – 13:00 Western Africa Time (GMT+1)

SPEAKERS:
Dima Godfrey, CAMS – Senior Customer & Third-Party Risk Solutions Manager, Refinitiv
Joe Zanga – Senior Research Analyst, Risk Content, Refinitiv
Chantal Breedt, CAMLS – Research Team Lead (Central Europe) – Risk & Compliance, Refinitiv
Veronica Hruba, CAMS – Regional Research Head (World-Check), Refinitiv
Paul Lezzi – Risk Solutions Consultant, Refinitiv
Abu Baker Mehtar, CAMS – Customer Success Manager – Risk & Compliance, Refinitiv

Register here: Event to be hosted on TEAMS Live – links will be sent after registration.